Hey Guys, thanks for looking. Well it's that time of year that I sell off some of my personal gear, or parts that have been lying around not getting used. Unless a note is added to an item (everything is in new unused or used, but great condition) = no off loading crap.
Some notes, please read.
1. Payment to my paypal account rich@fit2tri.com. First person to pay gets the item. If it is not marked as SOLD then good chance I still have it.
2. Prices DO NOT include shipping. Items will be shipped from zip 33073. If you really want something give the shipping cost your best guess. We can always settle up later, no worries.
3. When you purchase something add a note in paypal stating what you bought!
Ok, so let's have some fun!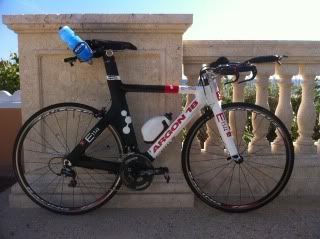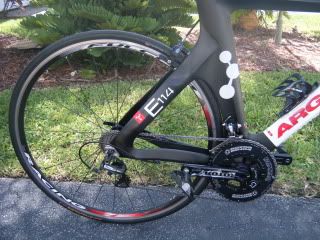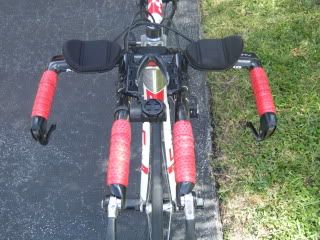 2011 medium Argon 18, E114. Great condition with not all that many miles. Fulcrum 7 wheels, (not pictured) Ultegera un-used 172 cranks, Zero gravity rear brake, Cobb V-Flow max saddle, DA brake levers, DA drive train 7900 and Hawk BB. Extra set of extensions, see image below 3600.00. If you want the Quarq/Rotor3D we can talk. It's 170, 53/42.
Hed Stinger 2011 disc with Flame Rouge hub and Conti GP 4000 tubular (cassette not included). Used once for 56 miles. 1200.00 SOLD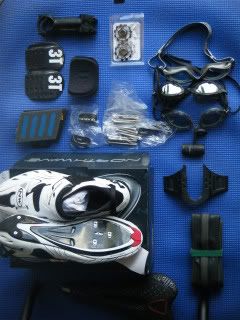 3T carbon arm rest cups with pads, never used 30.00 SOLD
Stem is Syntace F119, 90mm, 1-1/8 and 31.0 clamp. 35.00
Hawk Racing pully's shimano,black 70.00
Goggles 2 TRY, 1 Aquasphere, used a little but good condition 5.00 each or all 3 for 12.00 ALL SOLD
Hed cork brake pads, new 30.00
3T riser kit, new with all hardware 20.00
Stem mount computer bracket. I had this made to work with SRM head unit, but will work with any. Make of aluminum 40.00
Profile aero mount 10.00
Michelin Pro3 slightly used 700c 15.00 SOLD
North Wave tri shoe, carbon sole, new size 44. I feel the run big, so if you normally take a 44.5 these should work. 110.00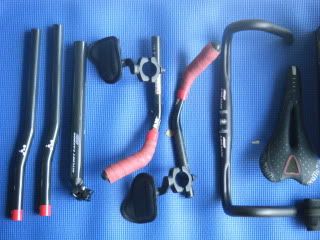 Profile clip ons, Carbon Strike, used 15.00 SOLD
Ritchy carbon seat post 20.00 new. 31.6/350 SOLD
Ritchey aluminum road bars, new aluminum 42 c-c, 31.0 clamp 20.00
Saddle Selle Italia C2, new 20.00 SOLD
---
Richard Nixon, Fit2Tri Multisport Inc.
Fit2Tri
,
rich@fit2tri.com
Discount code, slowtwithch