Here is my ride report climbing up and down Haleakala (twice!) last week in Maui. For those of you who hate, race/ride reports,
why did you click on this thread?
You will definitely not want to continue farther, as this will be pretty comprehensive. In other words: long-winded!
The Mountain
: Technically, I suppose it's not a mountain but instead a dormant volcano. I'm not a geologist. For cycling purposes, it's a mountain, and a pretty big one. The summit is at 10,023 feet, and the mountain eases all the way down to sea level, so you have an (almost entirely) uninterrupted climb of 10K feet over approximately 35 miles or so. We'll talk about the route next.
The Alternate Routes
: You can basically take 3 main routes up. The first would be to come up from the south via the Kula Hwy, but no one really does this because there isn't a whole lot around that section of the Kula Hwy. It's pretty desolate. The second option would be to take the Haleakala Hwy (37) all the way from the airport area in Kahului to where it hits Hwy 377. Whichever route you choose, you're eventually going to hit 377, but almost everyone chooses the third route (we'll get to this) for 3 reasons:
#1: Riding up Hwy 37 is the closest thing you'll get to riding along a freeway (lot more cars at much higher speed than the preferred third route).
#2: The third preferred route has basically become the "official" route to Haleakala
#3: If you want to ride from sea level to the top (and who doesn't want to maximize the climb when you're doing something like this?), you have to start in the town of Paia, which is on Maui's north coast, just east of the airport in Kahului.
Paia
: Paia is Maui's top surf town, and one of the best windsurf locations in the world. It's not Jaws (Peahi) when there is a winter swell, but then again, what is. Paia has lots and lots of consistent surf - as you drive into the town and take a look in the ocean you will see waves breaking everywhere. Most visitors will be coming from West Maui and so as you approach Paia from the west on the Hana Hwy (36), you will see a small beach park on the left side of the highway, just before you get to town. It's called Baldwin Park and is a great place to park and start your ride. Just past this park is another, Lower Paia Park. This is where I parked my car and started my ride. The parks are less than .5 mile apart so just pick whichever one looks good. Here is a
Google Maps link to the parks
. There is a bike shop in Paia and a few restaurants and shops, but it's a small little town. Rather artsy.
The "Official" Route
: For all the reasons above (best roads, most elevation, cool town of Paia for the start/finish) and another big reason, the annual
Cycle to the Sun
race, the route almost everyone takes begins in Paia. Start your computer right at the intersection of the Hana Hwy (36) and Baldwin Avenue, and here is what you do (mile markers are from this intersection):
0.00. Head up Baldwin Avenue. You will pass through town (only last a few blocks), an abandoned sugar factory, a couple nice churches and sugar cane fields. You will come to the town of Makawao at around 6.5 miles and 1,600 ft elevation. Makawao is like an old cowboy town - it's not what most would expect to find in Maui. The town ends at Makawao Avenue, where you will find a four-way stop. This is at mile marker 6.95, and you will continue straight, at which point the road you have been riding (Baldwin Ave) becomes Olinda Road. The first 1/2 mile or so of Olinda Road is the steepest section of the entire days' climb (though probably matched by the very top - we'll get to that).
7.98. From Olinda Rd, you turn right on Hanamu Road. This is pretty much the only place you could screw up and go off course if you don't pay attention. It's not entirely intuitive to turn here, no scratch that, it's counterintuitive to turn here, because going straight you will continue the gradual ascent up Olinda Rd, while turning right will put you on the rollers (yes, this is the one section of the climb with some descending - it's not a lot by any means, but when the entire rest of the ride is a steady climb, it seems like much more than it is) that feature a couple descents, the longest of which can't be more than 20-30 seconds. If you're already spacing out, and not paying attention to distance, remember to turn at the Oskie Rice Arena/Maui Roping Club - it looked to me like a rodeo area, it's on the left side of the road, and it has a big sign - this is where you want to turn right onto Hanamu Rd.

8.72. From Hanamu Road, bear left onto the Haleakala Hwy (377). Hanamu is going to dead-end into 377 at a Y-shaped intersection. You will be riding up the base of the "Y" with the option to bear left or right. It should be pretty obvious which way to go - right descends back towards the ocean and left takes you up the mountain. Bear left. You will need to merge onto 377 so be careful here if there are cars either coming down or going up 377.
14.08. From 377, turn left onto Crater Road. Like your previous left at mile 8.72, this one would be tough to miss. First, you come to this as you are cresting 377 - if you continued on 377, you would begin an immediate (and significant) descent. Second, there is a big sign that you can't miss telling you to turn left for Haleakala National Park.
34.68: Yes, you have been climbing for over 20 miles now. You will round a corner and begin to enter the Upper Visitors Center parking lot, but you're not quite done yet. Before you enter the parking lot, turn right on the short road to the summit. You'll be on this for about 0.6 miles, but it pitches up and gets a lot steeper and is just generally a cruel way to end the climb. But you're almost done! You'll approach another parking lot (smaller than the parking lot for the Upper Visitors Center) - keep riding through it and there will be a little 3' wide or so stretch of asphalt that will take you all the way to the observation deck at the summit. There's not much at the top, other than the amazing views. There is an enclosed standing/observation area that may be nice if you need to get out of the wind or rain. And there is the elevation sign. You're gonna want to get a picture of yourself at the top with the sign - everyone does it. Here is me after my first Haleakala ascent:
Equipment
: You triathlon guys won't bat an eyelash with the behind-the-saddle bottles, but at a roadie, it took a lot for me to bastardize my bike in such a fashion. I apologize to
The Rules
. But I tend to go through a lot of water when I ride, particularly climbing, so I went ahead and added the extra bottles. In fact, I carried a fifth in my jersey pocket. But I am sort of extreme. We'll talk food and hydration in a bit. As for the rest of the bike, I went with my R5 and Enve 3.4s. Personally, I wouldn't want wheels any deeper than the 3.4s, because it can get pretty windy and gusty up at the top (actually, it can get pretty windy in just about any part of Maui). I'll get into the descent a little later, but unless you are the rare rider that can bomb descents in gusty crosswinds on deep section wheels with total confidence, I would stick to something pretty shallow. Even with the 3.4s, I had a 40mph gust-induced speed wobble that made me a little skittish coming down, and at another point, I had a gust move me sideways a couple feet, with lots of fighting the wind in between. As for gearing, it never really gets all that steep (except for the relatively brief sections right after Makawao and the 0.6 mile section to the summit), so 34/28 was plenty low for me. And I am not a good climber by any means (FTP W/kg of 3.4), so you might be able to get away with higher gearing. Then again, if you're just trying to make it up the mountain, you might want to consider a triple. There are good options to rent bikes on the island but I can't comment on that - the R5 made the flight over with me from LA.
Food/Water
: It's gonna be a long day on the mountain, so be prepared. I didn't make any stops to refuel, other than at the Lower Visitors Station (more on this later) for water, so I can't comment on the availability of food and drink from other sources (eg stores) along the way. There's Makawao of course, but you're barely into the climb. There's also another market just before you turn onto Crater Road (Kula Marketplace - it has a prominent sign on the road leading you down a driveway, but I didn't check it out, so I don't know what it offers). Basically, your best bet is to bring with you all the food that you will need, and plan on your only water refueling spot to be the Lower Visitors Center (and the Upper Visitors Center before the descent).
Visitor Centers
: The Lower Visitors Center is located just inside the official park entrance. This is a little booth in the middle of the two lane road where the park ranger takes your $5 admission fee to get in. So make sure you have at least $5 on you when you get here. The park entrance is right around
Mile 25
or so - the Lower Visitors Center is less than a mile ahead. They're both at a little over 7,000 feet elevation. Unless you're fully stocked and racing for the top, you're going to want to stop at the Lower Visitors Center. But don't go in the main entrance where you're likely to see everyone else going. That leads to an indoor area where a park ranger will likely be overrun by tourists, answering questions, herding them about, etc. Instead, go past the entrance and hang a right at the end of the building and you will see water faucets and restrooms. The restroom is large enough to bring your bike in, but it can get kinda crowded, and I don't think anyone is going to run off with your bike. The Upper Visitors Center will give you an opportunity to use the facilities before you begin the descent back to Paia - you have restrooms and water faucets outside the restrooms.
Weather
: If you are flexible on dates, check the weather before you go. The first day I did Haleakala, it rained on me for the first 90 minutes or so, all the way from Paia til past the turn onto Crater Road. It was also windy, a pretty fierce headwind at times on Baldwin/Olinda and then gusty throughout but especially above 7,000 feet, where the barren landscape and lack of tree protection really lets the wind wreak havoc. The second day I did the ride, the weather was much nicer, just a touch of drizzle in the middle of the descent and manageable (though not non-existent) winds.
My First Haleakala Ride: Monday, Sep 24, 2012
The Plan
: With 8 days scheduled in Maui (Sunday, Sep 23 to Sunday, Sep 30), the plan was to ride Haleakala (once!) on Monday the 24th. I wanted to do the ride early in the vacation so that I could then proceed to gain 10 pounds on the island eating and drinking (OK, mostly eating) without regard to consequences.
The Ride
: I woke up early, drove out from my hotel in Kaanapali, parked in Paia and was on the road at about 6:30am. It was raining pretty good in Paia and in fact the rain continued all the way up until a little after I made the turn onto Crater Rd. The rain really wasn't a big deal, even in shorts and short sleeves, because it was still warm out and I get pretty warm climbing. More annoying was the pretty steady headwind that I encountered up most of Baldwin and Olinda. I really just tried to keep my power consistent, and reminded myself that I was in for about 5 hours of steady climbing. So I basically just looked to keep my power in a range of 200-225 watts. It's a very long, consistent grade, and if you blow yourself up, there's really no spots to recover. And I've never done a ride like this, so I figured it would be best to be conservative and just make sure I managed a consistent effort. I'm not a tri guy, but I imagine riding up Haleakala would be something similar to what riding an IM bike split would be like - a long, long effort at 70-75% of FTP. That's how I approached the ride, and it was pretty successful (given my limited abilities) - I ended up finishing the climb in about 4.5 hours. Why "about" 4.5 hours? Because
my friggin' Garmin 500 froze up and lost my ride later that afternoon at the hotel when I tried to upload my ride!
(more on this later).
Climate/Eco Zones
: For me, the coolest part of the ride up Haleakala is that while it is one long, continuous climb (it is billed as the "world's longest paved climb" but that honor may now belong to Mauna Loa on the Big Island - I've read conflicting reports on this, and even if it is true, my understanding is that there are no facilities at the top and so you
really, really
would need to be self-sufficient on that climb), it feels more like a number of distinct climbs combined into one. First, you have the ride through Paia, where you go through the small town, then houses on the outskirts, then an old sugar cane processing plant, a couple churches, and sugar cane fields on both sides of the road. Then you've got the cowboy town Makawao, a which point there are more trees and it's a little like riding through a forest. This continues up Olinda until you reach 377. Here, the forest gives way to pastures of grass, and you will see cattle grazing. The turn onto Crater Rd brings you back to more forest, with more pasture land. Then there is a stretch before you get to the park gate (where you pay your $5 entrance fee) that reminds me of Northern Calfornia or Oregon. Finally, you get up past the treeline and here you are riding through lava fields - the only foliage is scrub brush and plants that you would expect in the high desert. It's a varied and rich experience.
The Descent
: After taking a photo at the top, I headed down to the Upper Visitors Center to use the facilities and fill up a couple water bottles. Then it was down the mountain. Talk about a tale of two rides... 4.5 hours up and it ended up taking me 1:03:25 on the
Stava Segment for the Descent (34.1 miles)
- the segment is a little shorter than the ride up because the segment stops right where Paia and its side streets begin (safety first!). Now if you are asking, how do you know your exact time if you lost your Garmin data for the ride? Well, I brought the trusty GoPro up in order to video the descent, and here is the
Entire Haleakala Descent, Top to Bottom, on Vimeo
. I have to warn you though - as fun as this descent was, watching the ride down may remind you of watching paint dry - I can't imagine anyone would actually watch the whole thing. But there it is, if you want to check it out. The Strava segment begins at about :45 and ends right around 1:04:10, so that's where I got 1:03:25. I had a gusty crosswind-induced speed wobble right around 1:55 to 2:05 that made me pretty skittish for the rest of the descent (I was getting pushed around by the winds quite a bit) and then missed a turn at around 48:25 (I think it cost me about 20 seconds or so), but when I checked the Strava leader board, I realized that I would have had the #3 overall time if my Garmin hadn't crapped out (and #2 if I hadn't missed the turn). Bummer!
My Second Haleakala Ride: Thursday, Sep 27, 2012
I told myself that I had done the ride, I got my photo at the top, I had my GoPro video of the entire descent down, and reminded myself that there was indeed a time where we did rides without any permanent record thereof on the Interwebs, but it just stuck in my craw that my Garmin had crapped out on me. Yes, I wanted a record of the ride (lame as that may be), but I was also curious about the power data from the ride - Haleakala is a pretty unique climb and I didn't know when I would next have an opportunity to see how I would perform in a continuous 4.5 hour effort. So it was set, I had to do it again! Tuesday was out of the question, Wednesday and Friday were scheduled scuba days, so that left Thursday or Saturday. Initially, the weather forecast made it seem like Saturday would be the better choice (rain and moderate winds on Thursday and no rain and lighter winds on Saturday), but as Thursday approached, the weather forecast flipped (Maui weather isn't terribly predictable) and that made Thursday the choice.
Second Attempt
: Going up the second time, I have to admit, the same enthusiasm wasn't there - there was part of me that said, "we just need to grind this thing out and get the job done." But the climb itself really is special and as I settled in, I began to again appreciate just how lucky I was to be making this ride. Well this time, the
Garmin Did Its job and Recorded My Ride
. It turned out I did the
Climb in 4:27:30 at 207W
. Nothing to brag about, that's for sure, but....
I Get a KOM!
: OK, OK, claiming a KOM for a downhill segment lacks the glory of a "true" KOM, and a downhill KOM is at minimum a misnomer, but I have to take what I can get! I ended up doing the
Descent of 34.1 Miles in 58:25,
dropping exactly 5 minutes from the (estimated) time of the first descent. Averaging over 35mph for almost an hour makes for quite a downhill run. There was still wind out, but not as bad as the first day, and so with no speed wobble right at the start, I went down with a lot more confidence and let the bike run on the straights and set up well for the corners, braking nice and late going in and committing to good lines through the curves. I had to pass a lot of cars, as well as a couple groups of tourists riding their drum-brake cruisers down the mountain (worse than going around cars because these groups always have a truck with a trailer driving behind them, so you have to get past them and then you have to pass a long line of these cruisers as they use the entire road), but the locals were great, giving me lots of room and letting me pass needed - I made sure to throw a shaka sign out to them while in my tuck as appreciation.
Here I am at the top after the second ascent: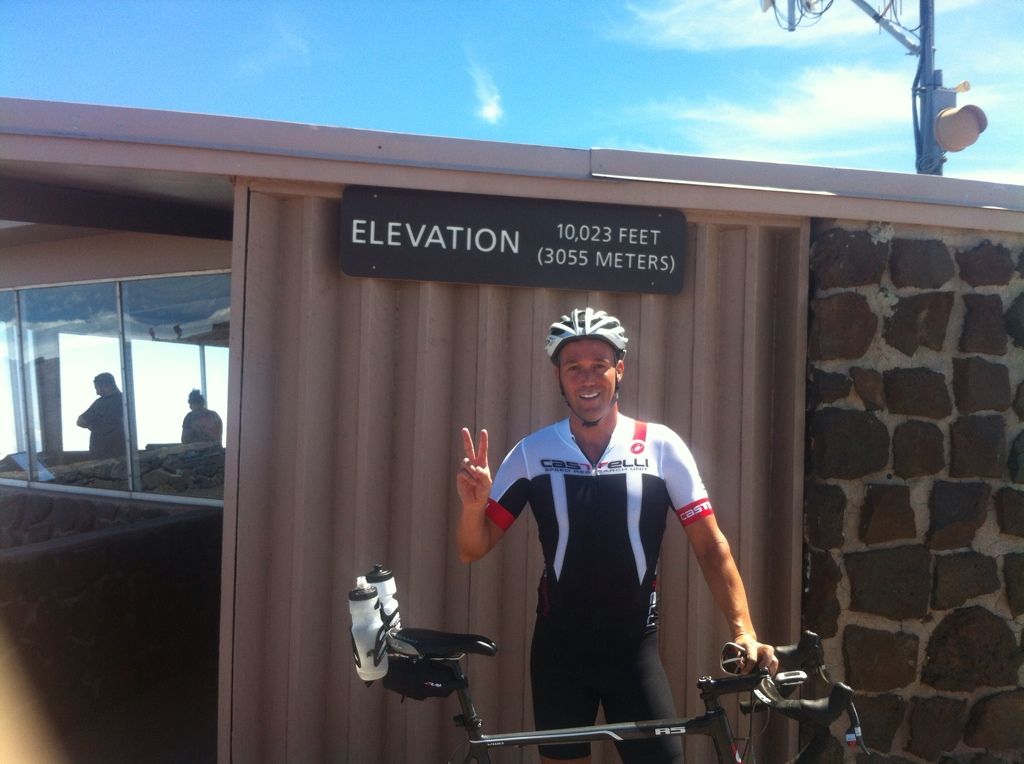 Well that's it, definitely something I would recommend if you are in Maui. The local bike shops (West Maui Cycles in Lahaina seemed like a great shop - I checked it out when buying some fuel for the unexpected Day #2) will rent you everything you need - I think even cycling clothes and shoes! But if you just brought jersey, shorts, helmet, shoes [and pedals], you could just rent the bike and be good to go.