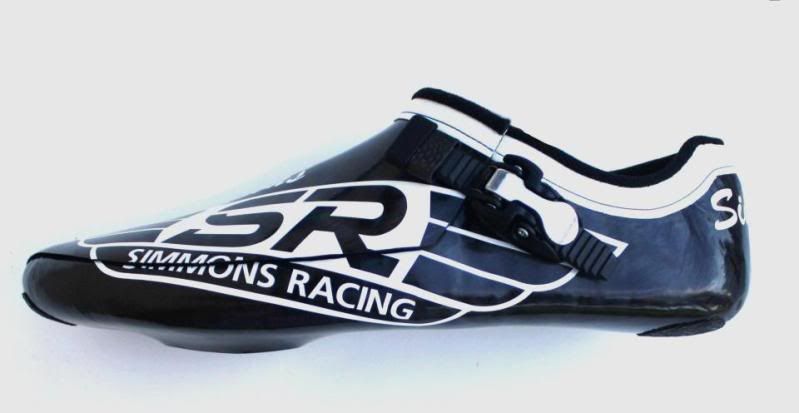 I recently received my pair of full custom cycling shoes. There are countless reviews online about cycling components and clothing, but very little information on full custom footwear. In my opinion, shoes are one of the more important contact points when it comes to cycling performance, so I wanted to provide some information on the process of buying the shoes as well as the benefits Iíve experienced since I got them almost 2 months ago.
The cliff notes: These are extremely lightweight shoes that feel stiffer than anything else Iíve tried. They are so comfortable you donít notice you have shoes on, and the performance is unreal. Iíve DEMOLISHED my 5 sec and 30 sec power records since I started using these shoes. A more "tri-friendly" pair is on the way, once Dave figures out a way to put the shoe on quicker than a conventional tri shoe.
Full version:
The shoes Iím using are made by Simmons Racing (
http://www.simmonscyclingshoes.com
), a custom shop in Cape Coral Florida. The owner (Dave Simmons) and his wife have been making inline skates since 1991, but are relatively new to the cycling market. Every shoe is made by Dave and his wife from start to finish. None of the labor is outsourced. They are handmade in the USA.
Daveís goal is to build the most comfortable, lightest, and stiffest shoe possible. Heís built plenty of shoes (in adult sizes) under 100 grams. The upper and sole are the same piece of carbon fiber, so it is stiff like nothing else youíve ever felt.
The process starts with a cast of your foot. He has a video on his website to show you how to cast yourself, or you can schedule an appointment with him at one of the events he is attending. I flew out to Fort Wayne, Indiana to have Dave do the cast.
Your foot is wrapped in plaster and as the plaster begins to harden he has you put your weight on your feet to make sure the bottoms of your feet are formed well into the cast. He does one foot at a time and the process takes about 30-45 minutes. When he gets back to his shop he creates a replica of your foot using the cast. He builds the shoe around the replica of your foot so that the shoe is a perfect fit and conforms to every toe indentation and every bump on your foot. This isnít just a custom insole or a heat mouldable shoe. The entire shoe is basically vacuum-formed around your foot as it is being built. It is the type of fit that no lacing system, straps, insoles, etc can provide you with. It is hard to describe, but when you put it on your foot you can almost forget it is there because it fits so well and it is so light.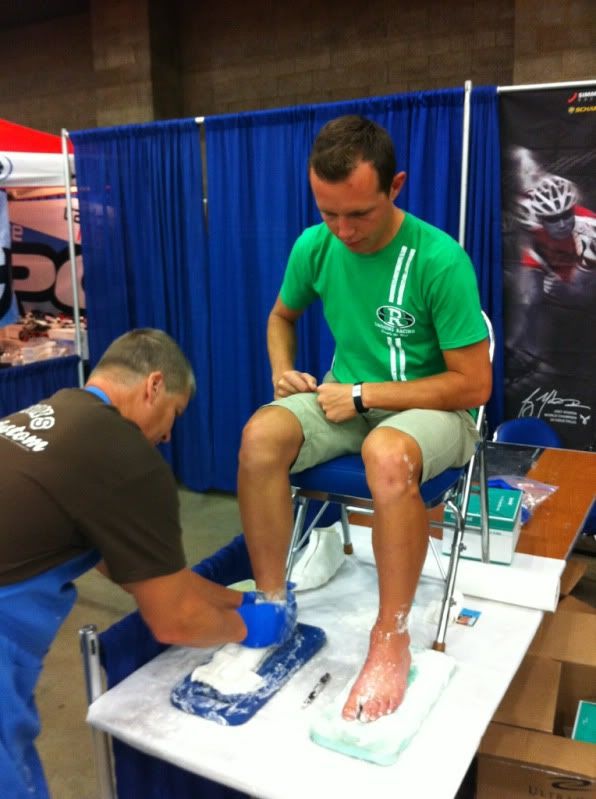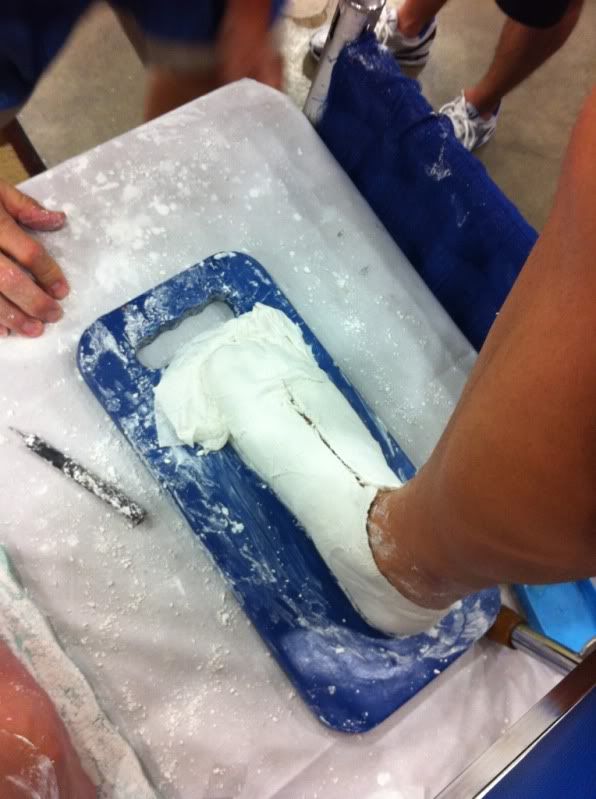 You can customize a whole lot more than the fit. If you under or over pronate, Dave can build the shoe to compensate. There is no need to purchase wedges because the canting is built into the boot at whatever level you need.
The shoe is made for whatever cleat system you are using. Iíve talked to a lot of speedplay users who are limited on their footwear choices because they donít want to use an adapter plate.
Cleat mounting is also fully customizable. You get to decide where the mounting block is on the bottom. If you think youíd rather have your cleats mounted further back or further forward than your current shoes allow, let Dave know and he can make it that way. Most stock shoes are designed so that the toes curve up. During your casting you can let Dave know exactly how much you want your toes to curve up. If you arenít sure how much your toes should point up or where your mounting block should be, donít be overwhelmed. If you donít have a preference, Dave can build the shoes similar to what you are currently using.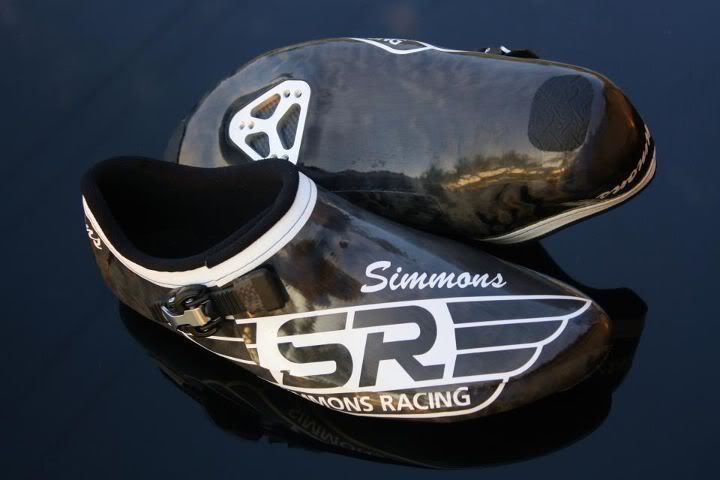 The ďlacingĒ system is up for you to decide on. You can get as few or as many buckles as you want. He can do laces if you want laces. If there is another lacing system out there you prefer (like a Boa type) he can do that too. I went with a single buckle. It is interesting that the custom fit is so good that I can run the shoes without the straps and not notice a difference until I get up to sprint.
Iím still realizing the full potential of these shoes. I knew they would be good based on the inline skating boots Iíve gotten through Dave in the past, but my expectations were pretty quickly surpassed. On the first ride I could tell this shoe was a step ahead in the evolution process of cycling shoes. Remember the first time you ditched toe clips for clipless pedals and you had that ďAhaĒ moment where you realized this is how cycling shoes should work? Well, I had this moment all over again. Since the top of the shoe (the whole upper) is the made out of carbon fiber, the entire structure of the shoe is stiff. Your entire foot feels connected to the cranks, not just your sole. It is impossible to put the feeling into words, but if you are ever racing in Oklahoma, Texas, Arkansas, Missouri, or Kansas and have around a size 12 (47) foot, Iíd love for you to take them for a spin so you can feel the difference for yourself.
They are noticeably lighter than anything else Iíve owned (Mavic, Sidi, Specialized, and Shimano).
I havenít used aerolab or the chung method to test the aerodynamics of these yet, but Iím willing to bet the cda is lower than anything else I own, even if I donít have shoe covers on these and I do on the others. Since it is an exact mould of your foot, I canít see how the frontal area could be reduced any more. The buckle system I chose adds some drag, so if aerodynamics is a big concern for you, you may consider a different style of buckle, but I like these for the ease of on the fly adjustment.
There really isnít a need to really crank down the strap because the shoe fits so well. When every square millimeter of the shoe is hugging your foot, you donít need to go crazy with the straps. Think of trying to tighten something with 1 bolt vs using 4. With 1 bolt you have more fatigue at the spot where the bolt is located. If you use 4, the pressure is distributed over a larger area and that distribution will keep you from putting too much pressure on one spot. These Simmons shoes are like the ladder. You donít get hot spots while riding because the tightness of the shoe isnít just located along the straps, it is all over.
So how does that relate to performance? At first I thought I was just getting a benefit in the first 6 to 10 pedal strokes and then everything went back to normal, but it was more than that. I could tell my jump was much stronger, and the powertap confirmed it. Pretty much any day of the week I can go out and put out a higher 5 sec power number than my previous record with my Mavic Zxelliums.
I thought that was the extent of it, but then I looked at some other sprints I had done in the mavics and noticed that my 15 sec power was higher on the new shoes as well. Last night I did a 30 second effort and blew my old 30 sec record out of the water. It wasnít even close, and oddly I didnít even feel great riding last night.