pawlaczynski wrote:
timppis wrote:
xoslic wrote:
JTNY- could you post some pics of your PD front hydratation setup, pls ?
to all Canyon CF owners: pls, post as much photos as possible (hacks, setups, upgrades , etc.) Cheers
Here is my setup from last weekends race. PD Aeria Ultimate stem and hydration, F40 pads. Zero spacers under pads and I also removed the spacer under the stem.
[url=
https://postimg.cc/image/6n1q4d2jr/
]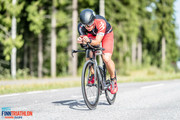 [/url]
Hey timppis, did you actually cut the steerer after removing that 4cm spacer? I just removed it myself but wondering whether to cut the carbon steerer or keep it in case I don't like the new position
Yes, I shortened the steerer. Before cutting it I trained couple months (winter time) inside on a trainer and tried if the lower setup suits me.
I will post some close ups of the setup soon. The stem is rather heavy but I don't see that as a huge problem.