Login required to started new threads
Login required to post replies
Spring! Spring! Spring!

---
Fishtwitch is chlorintined!
disclaimer: PhD not MD
Quote:
My goal this week is less than or equal to 6 runs
done!!!
and do a better job of varying pace and distance
sort of done!
. Swim goal is 6 swims
did 5
and bike goal is 2x.
did 1
I had a really productive week at work, including landing my first grant :-) it was an internal grant for $1500 to spend on materials for an afterschool STEM club that I help run at two local elementary schools. I am soooo excited - I can buy some Legos to use for teaching fractions :-)
I swam 8200 yds, biked 10 miles, and ran 56 miles.
I fly home tonight for spring break :-)
Goals for this week = no more than 6 runs (I intend to take tomorrow off, as I'm flying overnight); improve my skills at riding on rollers; swim at least 4x (1 done).
can't wait to see my family.
I hope everyone has a good week!
---
Fishtwitch is chlorintined!
disclaimer: PhD not MD
Enjoy your trip home TC! And congratulations on the grant.

I managed 4 and a bit rides for a total of 6h 39m. I had been aiming for the full whack but we had a whole load of fire call outs between Wednesday and Friday. The FTP test on Tuesday went well. Fairly decent pacing and 8 weeks of build saw a 15% increase. I had to abandon Thursday's Vo2Max workout because I was exhausted and even warm up watts felt terrible and I decided to take the rest day on Friday and do the weekend workouts well. I did my long ride (2.5 hours) on the TT bike which made me glad that the longest TT I've got coming up is 40k.

The big success for the week was focussing on the three eating things I had identified. I'm down in weight but the other benefits (sleeping better being the main one) are pretty sweet too. And I still ate cake and drank a cocktail and some wine one night so I haven't felt deprived.

This week: change in the routine due to a brief trip out of town so aiming for the three quality TR rides AND, if the weather holds, an outdoor ride. Lift x 2 (one done already - feeling stronger there too).

Congratulations tigerchik, you are on a roll! I hope you enjoy your well deserved spring break.
And good work on your nutrition goals, Scheherazade. I'm actually seeing a nutritionist on Friday so I may have some eating goals of my own for next week.
My goals for the week were:
daily p/rehab, 3 strength sessions, 2 or 3 runs, 3 swims, 3 bikes and a yoga session. This weekend, I'm going out to hike and camp in the wildflowers so I am hoping to do my long run somewhere spectacular.


I got in 3 of everything and am happy with the progress I am seeing. In good news, I did my first real track workout since May on Thursday (woo!) In not so good news, given the nervy pain I had in my last race, I'm back on my road bike and only riding the tri bike in shorter sessions on the trainer to get used to the position. It's a bummer but better safe than sorry.
Saturday I did a long ocean swim followed by two hours of hill repeats on the bike before dashing off for a short but epic camping trip. As SLOGoing has said, California is incredibly lush right now and the wildflowers are out of control. I was in Anza Borrego SP and was in awe of the rich, vibrant colors in the normally barren desert. If I could ever get my pictures to load I'd share them (I have some on my Instagram so PM me if you want that). Despite being out there with my two favorite trail runners, we all ended up doing our long run when we got home.
This week I have daily p/rehab, 3 strength sessions, 3 bikes,1 yoga class, and 2 runs. I have a track workout and am doing a 10K road race this weekend. I have a 70.3 less than 3 weeks and I haven't done many bike/run bricks do I *might* bike before the 10K but I think mentally benefit more from a strong open run. We'll see.
I hope everyone has a great week!
---
(Formerly SoCalTricurious, now in the PNW).
Hi, Ladies!
Good week last week but it is the second week in a row where I've missed my long run AND my long bike. And I didn't get wet. Work is just getting in the way! Oh well, this is my busies time of year. Three more weeks and it will be smooth sailing until next year.
Run x5 (goal 7)
Bike x2 (goal 4)
Swim x0 (goal 3)
Oh well. I have my first tri of the season this weekend. YES! I'm ready to kick this off. Just a home-town Oly with some moderate hills and a lake swim. I'll survive just fine but I'm kind of hoping it will kick me into gear. I've decided that on April 29 or 30th I'm going to do a solo Wildflower (the lake opens back up on easter weekend) so I'll do my race this weekend and then prep for solo-Wildflower. I just can't let a year go by and not do it. I hope I can talk hubby into being SAG for me.
@tigerchik hurray $$$ for STEM! That's awesome!
@Scheherazade That's awesome about the pounds. I need to shed several after spending 3 months working 12+ hours/day sitting on my tuff.
@Tri3 - dang you are kicking ass on the 100/100 challenge! I'm hoping to come in at 90 runs. @mistressk my goal is to beat you even though you've out run me by a couple hundred miles.... dang. I'm just not a huge runner, but getting this far in 100/100 has been mind blowing. Last year I think I ended up at 56 runs.
---
Hillary Trout
San Luis Obispo, CA
Plagued by PF. Now I just swim.
https://www.slogoing.net/
Re: How was your week? March 20 Edition [SLOgoing] [ In reply to ]
The finish line on 100/100 is in sight! As of today, I am at 99 runs. Never made it this far. Lots of (very) slow 30 minute runs in that 99 did the trick. The longer stuff is killing me though. Had to stop 3 times to stretch during my 5+ miler on Sunday.

I'm toeing the line at my first tri in over three years on Saturday. It's a pool sprint. As of this moment, my bike is in pieces--literally. On Sunday I decided I needed to adjust the bars, which meant disassembling the cockpit, which meant re-cabling the bike.... After days of "does this or that" feel better on my back, I ended up in the same position as I started. I could not figure out what was going on. I also snapped--hard--at my manager and peers in a small group meeting yesterday.

Late last night, staring at the pieces of my bike, I realized I am anxious as hell about the tri. Deep down I'm terrified I'll screw up my back again. No amount of fiddling with the reach on my bike is going to fix that. So today, I'm going to take a deep breath, see my PT, and get the bike put back together.

SoCal, good luck with your race this weekend. SLO, thanks for the competition this year--it got me to the finish line. All, enjoy the first week of Spring.

Happy Spring time ladies.

My goals for last week: Swim x4 - did x3 (11.2km), but I did manage a 5km swim, which I was pleased with. Run x5 - did x4 (38.41km) and bike x5 - humph x3 (8hr30mins). I did want to ride more frequently, but it just didn't happen last week. However I did manage a 4hr long trainer ride on Sat. I went climbing x2.

My goals for this week will be Swim x4 including a 5km swim(1 done), Bike x5 including a long bike 4hrs (1 done), run x5 including long run closed to 2hrs (1 done).

TC: congrats on the grant - yay love lego, not so much fractions!!

Scheherazade: I just can't imagine the pain of a 40km TT - ouch and kudos to you.

Socal: good luck for your 10k!

Slo: good luck this weekend and if you do a solo wildflower, please write a race report - I'm sure even Slowman would be interested!!

Tri3: good luck for your race this weekend and well done on the 99 runs so far - so impressive.

So many womens racing this weekend, can't wait to read the reports next week. Go Slowtwitch womens!!

Congrats TC - enjoy your trip and visit!
Scheherazade, I'm with you on the finally getting some pounds to budge. It's a great feeling, isn't it? High five!
SLOgoing, if you're aiming for 90 you'll equal me - I did doubles the last 2 days so I'll make it there, since the last day of 100/100 is a Friday and training on a Friday is verboten for me. I think the most I've done previously is 85-ish and with recovery from the 8-hour plus 2 dental surgeries I'll happily take my "gold medal" this year. I may not have 100 runs, but I'll be over 100hrs for the challenge.
Last week's goals:
run x 5: win with 8
swim x 1: win
bike x 1: win
core/strength x 4: win
foam roll x 1: win
Saturday was 4.25hrs on some new-to-me trail. I knew it was going to be mucky and my ankle was sore so I decided to run on rail trail instead of singletrack - got Tank to drop me off at the East end of the 47km
Elora Cataract Trailway
and ran basically all of the trail that I hadn't seen before, ending at Bellwood Lake Conservation Area where it has served as the bike course for a "fat tire" try-a-tri and the run course of a road tri that I've done in the past, both as a solo racer and as a relay with Tanker. We'd cycled the rest of the trail from the Elora Gorge (Western terminus) to Fergus while camping in Elora several years ago.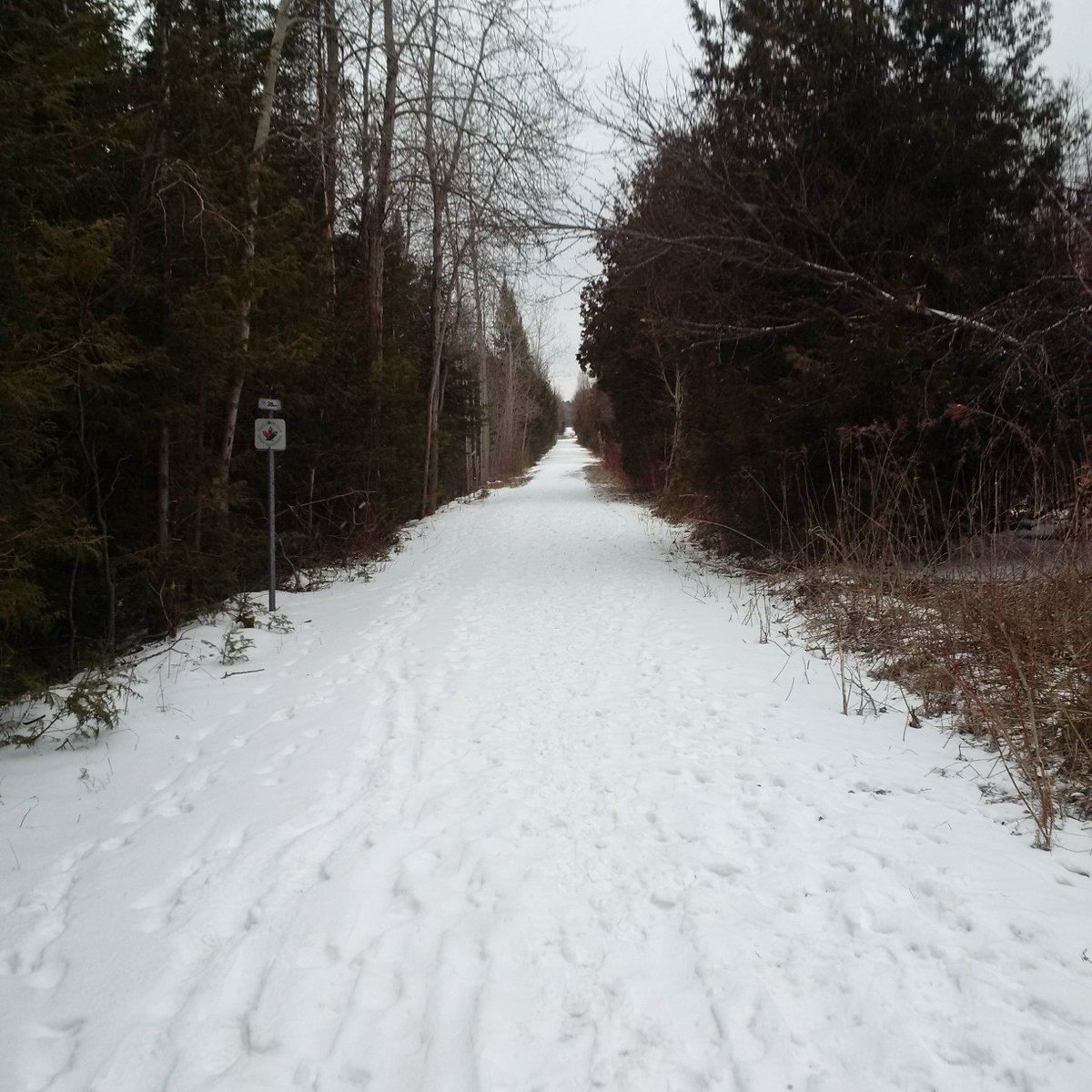 It was snowing for most of the run and the trail was covered wherever it was lined with coniferous trees, though fairly clear along the open fields through which much of it runs.
There were some pretty streams along the way, though mostly at the Eastern end in the Credit Valley Watershed as opposed to the Grand River section.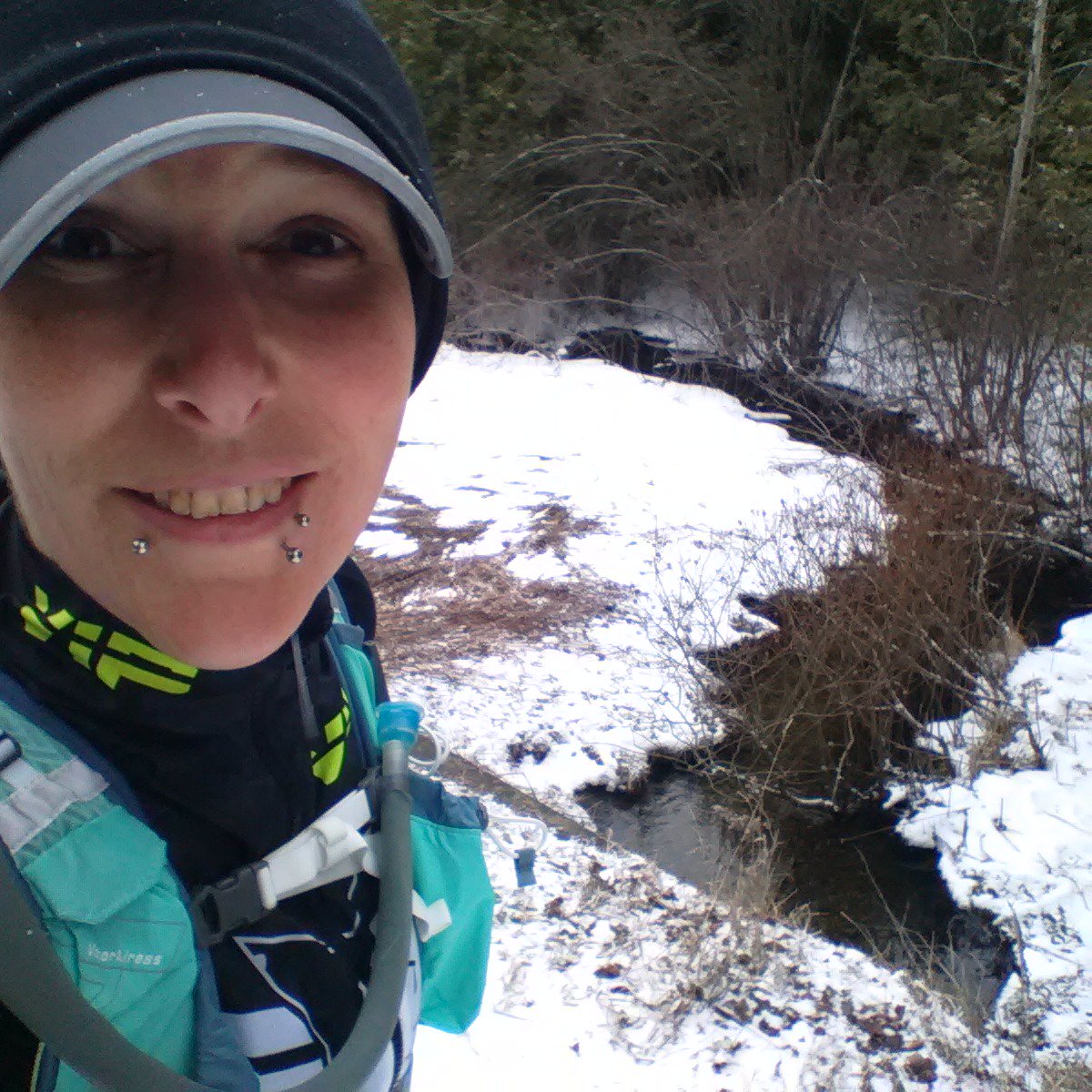 I got Tank to meet me at one of the major trailheads (Orton) around 21km in so I could re-supply water and change to a jacket and warmer gloves - the falling snow had soaked me pretty badly and the wind was chilly. Some parts of the trail were well-trodden but on some I was making first tracks.
Only saw about 4 other people out apart from Tank - maybe because the trail signs get a little snarky.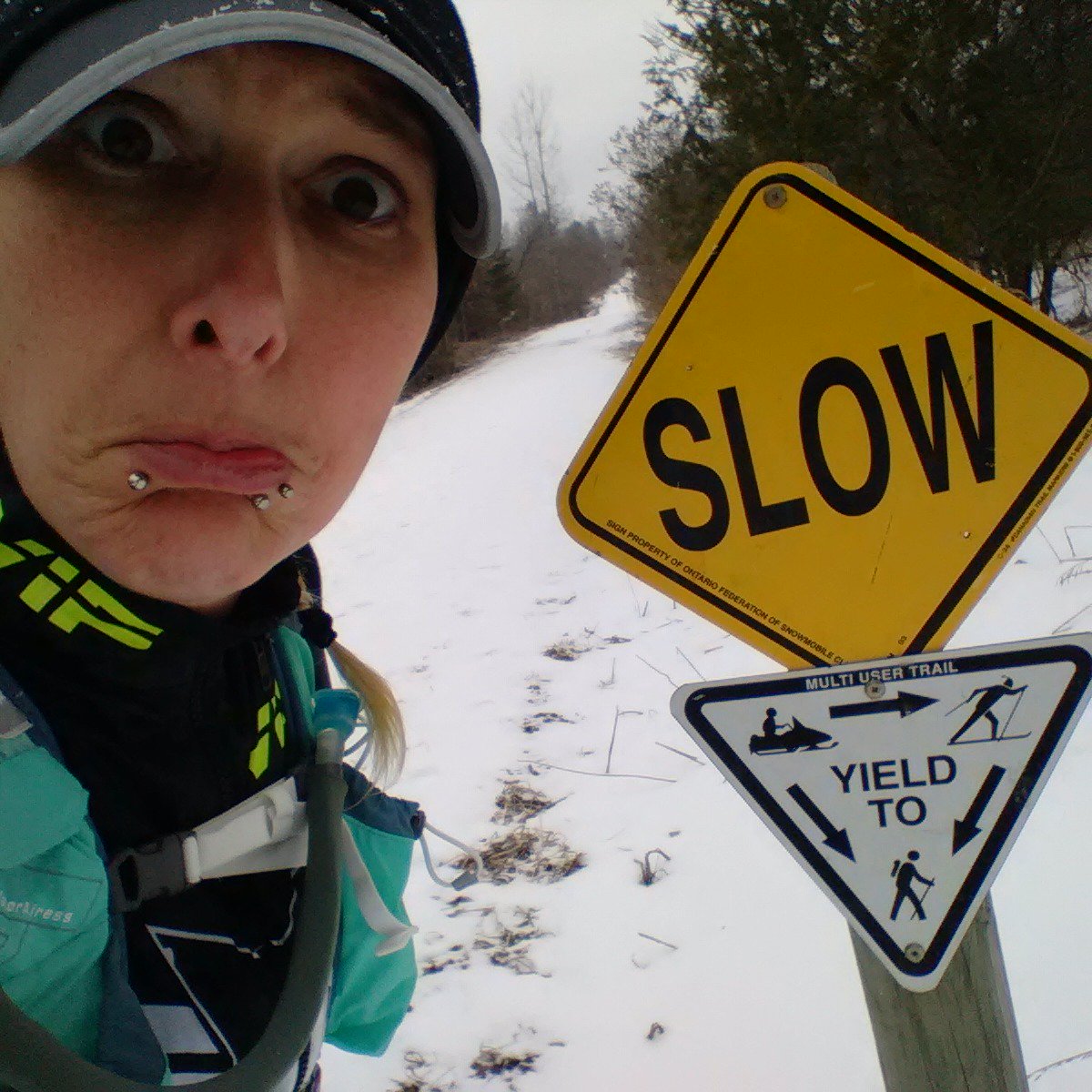 I made it to Belwood Lake just before sunset, but the conservation area was closed and the police chased Tank away when he tried to park there to go for a hike while he waited for me.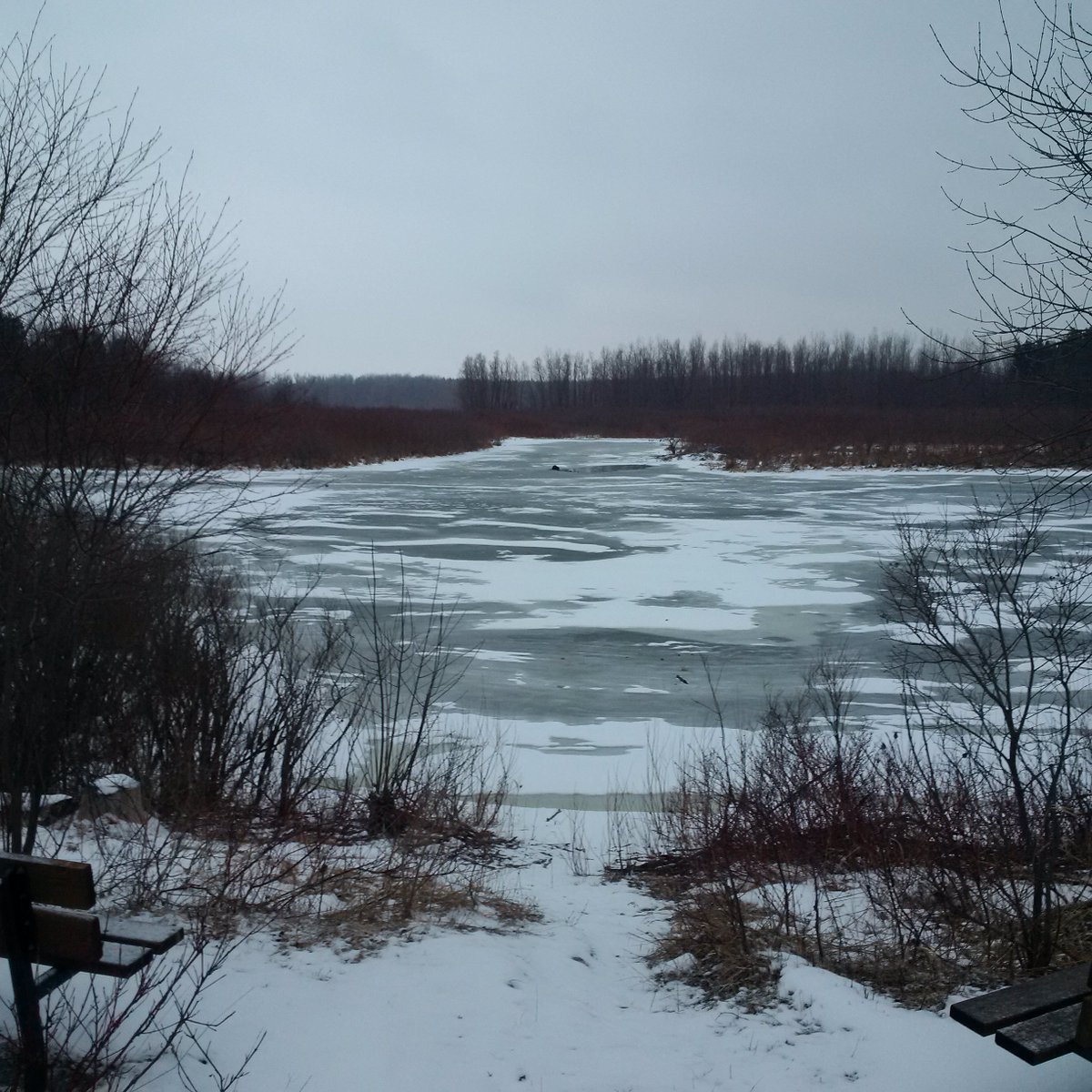 We made arrangements to meet at a burger joint on the outskirts of Fergus, but I had to leave the trail to run on the side of the road, and that just isn't a comfortable thing after 4hrs of running on snowy rail trail. It was also further away from Bellwood than I thought, so Tank came and picked me up on the side of Hwy 3 after 39km / 4h15m. I'd wanted to get 37k in, so that was plenty.
Did a couple of short runs on Sunday as my ankle was sore and I was pretty shagged out from Saturday. The sun came out and it was a lovely, mild day with almost no wind, so I had fun splashing through the mud and slush in a skirt!
That gave me 91.5km (almost 57mi) for the week, which is the most I've ever run in 7 days before. Tired and sore but managed a couple of short road runs yesterday - just have a quick lunch run today and a swim tonight should help with some recovery.
A friend is putting on a group run (which will probably see me running alone again, since all the people I know who are going are much faster)
on the Bruce Trail in Hockley Valley
on Sunday that will likely take me about 3.5-4hrs (for 23km!), so I may take things a bit easy on Saturday. Have to see how I feel.
This week's goals:
run x 5
bike x 1
swim x 1
core/strength x 4
foam roll x 1
---
__________________________________________________________
ill advised racing inc.
Re: How was your week? March 20 Edition [Tri3] [ In reply to ]
Tri3, thanks! I appreciate you.

I understand and share your anxiety. My entire racing career has been injury plagued and I get so nervous about getting hurt again. You are doing the right thing, take a deep breath and get an expert opinion. Keep us posted and good luck this weekend!
---
(Formerly SoCalTricurious, now in the PNW).
Re: How was your week? March 20 Edition [SoCalTricurious] [ In reply to ]
Also: good luck to the womens racing this weekend! I'll be over here cheering for you!
---
__________________________________________________________
ill advised racing inc.
Re: How was your week? March 20 Edition [mistressk] [ In reply to ]
Mistressk I always read your posts in awe of the trails you run and just how you're preparing for your 100k. Congrats on your 95.1km last week, that's some mega mileage there and I hope your ankle recovers quickly :-)

Re: How was your week? March 20 Edition [Anna s] [ In reply to ]
Kind of you to say so - thank you! Trying to get in at least one week of 100+km (preferably more than one..) before the end of April, but I have a very long commute so it's tough to crank up the mid-week mileage. I know it's only really another hour or so of running but when I'm already at 15-ish hours per week of training it feels like a lot of work!
---
__________________________________________________________
ill advised racing inc.