This is lightly used. Has not seen action since IMFL '05. As most know I was hit by a car last April 15th therefore was out of action all last year. I am trying to liquidate some of my gear and it just doesn't make sense to keep "Lucky Lucy" sitting around unwanted and begging to be ridden hard. I would estimate roughly 500 miles of action on her, 112 of those being IMFL. She is in pristine condition. No scratches or flaws to the frame. This is the 3K carbon weave which is much nicer than the 12K carbon weave on the '07 model.
The leftover frames are on sale at Trisports.com for $2429.10 and complete ultegra for $4229.10. I can sell this bike one of 2 ways:
option 1: Shimano Dura Ace 10 speed front and rear derailleurs, Shimano DA 10 speed Bar-end shifters, Shimano Ultegra brake calipers, Vision basebar and clip-on aerobars, 172.5 FSA Carbon Team Issue Crankset, Velomax Circuit wheels or Easton Vista wheels, Shimano Dura Ace cassette and chain.
option2: Ultegra 10 speed front and rear derailleurs in lieu of the Dura-Ace, and then pretty much everything the same as above.
Serious inquiries only.
Option 1: $2800 or best-offer.(new price as of 4/16/07 $2500)
Option 2: $2700 or best-offer.(new price as of 4/16/07 $2400)
Pictures available upon request. Just send me your e-mail address. Bumblebee just bought my trainer bike ('06 Seduza) and he can vouch for the way I keep a bike.
Here she is race ready!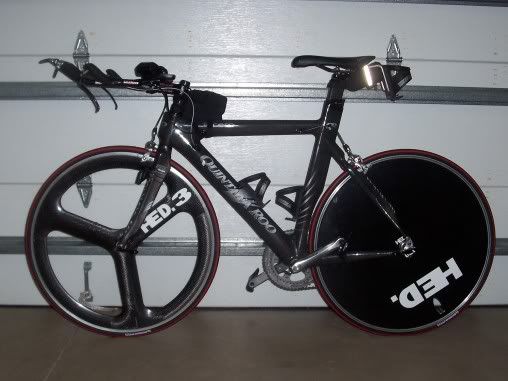 ---
Team Endurance Nation