Login required to started new threads
Login required to post replies
I hope all the US womens had a good Thanksgiving!

---
disclaimer: PhD not MD
Indeed I did. How about you?

My month of sloth is over and I'm back on the (baby steps) training plan. Sticking to short course races in 2014, so a much lower training volume to support my injury recovery.

Just bought a year subscription to trainerroad.com and will be doing the bike test today to establish FTP for the structured workouts.

This week's goals are 6 runs; 3 bikes; 2 swims; 6 strength/conditioning.

Last week's goals:
Run x 4: WIN with 6
Swim x 4: WIN
Bike x 4: WIN
Core/strength x 4: WIN
Foam roll/rehab x 4: WIN for doing rehab but FAIL for foam rolling - zero.
Leg is getting stronger, and I had an awesome trail ride on Saturday afternoon - even found a new trail that's still in the process of being built!
(Not this trail - this one was super fun, despite a couple of clench moments riding across frozen puddles where the river had washed it out a bit)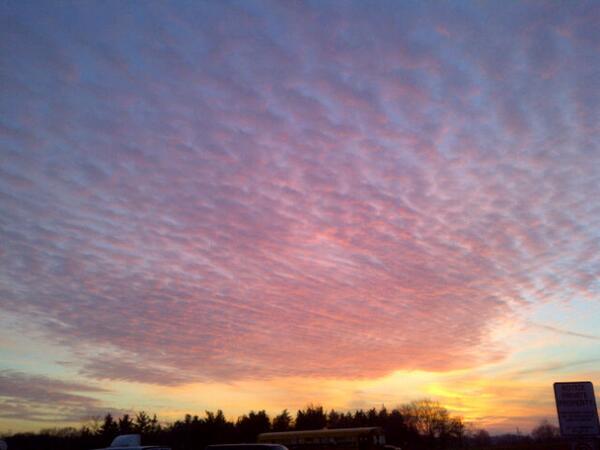 I was rewarded with this incredible sunset to finish off the ride.
This week's goals:
Run x 6
Bike x 4
Swim x 4
Core/strength x 4
Foam roll/rehab x 4
Cheers!
-mistress k
---
__________________________________________________________
ill advised racing inc.
I had a good couple days off. Busy! On Saturday morning I did the Seattle Kid's Marathon with my niece and nephew. They run/walk/skip a mile every day then finish their last mile at the marathon location. They get t-shirts and medals. My niece is a natural athlete, my nephew not so much. It was a challenge to keep him moving but he did it and ran in the last little bit so I was proud of him.
Sunday I did the Seattle Half Marathon. My training has been inconsistent. I've been working a lot, got a cold, got burn-out, etc. so I wasn't in prime shape going in. The Seattle course sucks and I wonder why I keep doing it. The second half is all hills that go on for-freakin-ever. I felt great the first half. My average pace was faster than I expected with little effort so I was excited to maybe do a little better than I expected. The hills sucked all that optimism and energy from me. I came in well past my goal time but considering my training I'm generally OK with it. The important fact is I was 24 minutes faster than last year and didn't walk the hills so a big improvement. I just have to keep reminding myself of the progress I've made.
Today is a rest day, tomorrow a massage, Thursday is personal training and who knows what else for the rest of the week.
I'm going to play it chill for December. Shorter runs, some pool time and lifting weights. I need the mental break.
---
----------------------------------------------------------------------
Jen
-
@ultragrrl
"In order to keep a true perspective on one's importance, everyone should have a dog that worships him and a cat that will ignore him." - Dereke Bruce
Re: How was your week? Dec. 2 Edition [Tri3] [ In reply to ]
I had an excellent Thanksgiving.
Quote:
Goals this week - swim 15k, day off from running, be present and enjoy Thanksgiving food and not binge on pie and homemade crescent rolls
First two not accomplished - last one, and arguably the most important, accomplished :D
I was very close to 15k swim
I had 2 very short run days so that KINDA is like doing 7 miles on one day than taking a day off. Kinda.
M - 7 mi run + 0:35 stair master
T - 7 mi run + 4600 yd swim
W - 7 mi run + 5000 yd swim
T - 3.5 mi race, 2nd FOV, 24:15 (6:56/mi) ... making the 5th state in which I've raced this year. :-)
F - 8+ mi run + 2500 yd swim
S - 8.5 mi run + 2000 yd swim
S - 4 mi run
Total of 45 mi run + 14,100 yd swim + some other and a bunch of walking miles.
Thanksgiving was awesome - took the train (!!!) to Washington and spent a couple nights there.
Goals for the week: LOTS of swimming (like 15-20k), bike commute a couple times (rode in this morning so one done), day off from running (this is always a goal :P )
Academic goal = A on Friday's final exam. I should think of a reward for myself should I make that.
---
disclaimer: PhD not MD
Great Thanksgiving, kind of a forced early taper (racing this weekend) due to a cold & traveling. So did nothing all week. Drove to Fresno on Wednesday, walked a mile with my adorable 2 year-old nephew on Thursday, drove home on Saturday, and did a swim/run on Sunday.
This week-
Mon/Tue- run, maybe swim
Wed- Spin
Thurs- run
Fri- off
Sat- drive to Palm Springs, maybe get a ride in.
Sun- Race
---
check out my blog
http://theswimmingtriathlete.com
I had a really nice Thanksgiving. It was started off w/ rather small town 5 mile Turkey Trot. I had my three kids, two of my kids friends, one of their fathers and my 84 yo father all out there. It was super cold, but ran a few warm up miles. Ran the race and was happy w my time, then ran back on the course to run everyone else into the finish. It was amazingly fun, and a great way to start the day. Good meal, probably over ate, but whatev'

This week I start w/ a coach. First time I've ever tried a coach. I'll hit the 50-54 yo AG this year so hopefully it'll help. I have a half marathon on Sunday, so really off to slow/ taper end of the week start w/ him. But we'll see.

Happy training all.

Thanksgiving was perfect: PR'd in the local Turkey Trot (San Jose has the biggest in the nation! 25,000 people!) despite having a small boy (wtf is a 4-year-old doing in the "9-10 min miles" group) fall on my foot 20 steps in. My husband and I drove to my parents and cooked the whole meal. I definitely went through a bottle of wine, but succeeded in not killing my mother. Dad "tricked" my husband and me into moving 3 tons of furniture. Didn't eat so much that I got sick, though :D

Beyond the 5k, it was a great training week in that I did /something/ every day. Mostly little bike rides on my mountain bike, but two real training rides and a second run. My quads were SORE for 3 days after the 5k - that sucked - but I've been riding high on the PR and being 1 minute off my big goal (sub 30 5k - I know, I'm really fricking slow).

---

-----------------------------------------------------------------
You. You make me stronger.
Nice work Jen! yeah the last 6mi of that course sucks a**! :-)
Last week's goals:
- Run 3x - FAIL - see below
- skate 3x - FAIL - see below
- ghetto gym 3x - WIN
- ride 4x - FAIL - see below
What happened? I was at the end of my skate on Wed, doing a cool down lap, and WHAMMO! Ended up on my ass with my right ankle screaming at me. I hobble to the bench with the help of a coach, sit down, take my skates off and lo and behold this:
Yep, the right tip of the blade caught the ice and broke right off - I took a chunk out of the ice as big as my fist. As the tip broke, it grabbed the ice and yanked me back. OWIE. If a tip fails, it's typically the LEFT front tip, as that tip can get clipped by the right blade during crossing over. The equipment manager was baffled - "I've never seen a right tip fail, wow" So a few days of non walking the dog/non running and new (upgraded) skates on Sat with a very VERY short (30min) skate and there you have it. I ran yesterday easy on it, and it feel okaaaay, but it still is a bit wonky. Since ankle flexibility is so damn key in this sport (dorsiflexion) I am happy I was able to skate OK, hopefully it will resolve with a bit more rest and easy activity. At least I am eligible for medical coverage through the provincial body, in case I need physio.
This week: Easy and back at it.
Skate 2x
Run 3x EZ
Ride once maybe
Ghetto Gym 3x
AP
---
------------------------
"How bad could it be?" - SimpleS
Re: How was your week? Dec. 2 Edition [Agilecipher] [ In reply to ]
Congrats on the PR! Pretty soon you will be running well under 30 min... you are relatively new at this and the time will come off quickly.

---
disclaimer: PhD not MD
Thanksgiving was awesome. I did all the cooking and the food was exactly to my liking.

Met my run mileage goal. Did my own solo 'turkey trot' on Thanksgiving Day after a nice sleep in and breakfast casserole.
Did a goofy silly fun CX race.
Swam 1x, and a sad one at that. The pool was 76F. It was too cold for me that day and I got out really early. It's comical though. 76F in the summer feels great. 76F in the winter, when you were already freezing your buns off (ran that am in the super wind freezing-ness), seemed unbearable.
Biked 3x, husband and I even did a trainer workout together. This is an infrequent happening.

This week - run mileage is scaled back (on purpose, I need a mental break)
bike 3x including the last CX race of the year
1 swim planned due to social activities.