So I went up to Mooseman to volunteer and hang out and cheer people on. I went up friday and worked registration friday night then off to dinner - ran into folks I knew we drank schmoozed, ate and had fun.
Got up saturday at 4:30 to be at the race site at 5:15 and again worked registration then the bike mount/dismount line. We stayed until the last biker returned (this was the olympic distance race....). It was a long wait.
Got lunch and then did some of the swim and most of the bike course as a brick prior to returning to registration. It is rather fun being in that position as I saw so many people I knew....
I saw someone I know from bike racing - so we say hi, and I am saying oh yeah I forgot that you are relaying this. She looks at me and asks me to be the runner for the relay of a HALF IRONMAN as they lost their runner. She and her swimmer are looking at me with these big puppydog eyes and the threat of DNF as their runner dropped out....you would think after all the years of jewish guilt trips I would be immune to this sort of thing....but no....I inform them that I have NEVER run that far....and they reiterated that I can be slow.....
Now anyone who has known me for about 3 seconds knows that I am a sprinter type person. I have repeatedly and adamantly held that I will NEVER do a tri longer than Olympic as I will NOT run more than 10K. Period. My opinion has ALWAYS been that I do not do things that have the word MARATHON in them. You cannot fool me by sticking the word half in front.
G-d likes to play with me when I say never.
so I figured what the heck....worst case I walk.....
Event warmup:
Helped at registration from 5:15 until close to 7....got body marked then cheered our swimmer on and our biker....schmoozed, crashed on a couch at the Clifbar station. it was nice being out of the sun as it was now over 90 degrees.....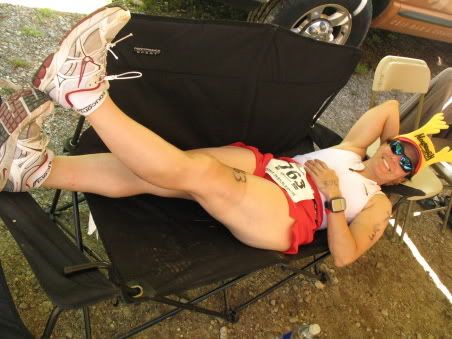 It was hot as hades - 95 degrees....I did a good job staying cool and hydrated - put a sponge in my hat and every opportunity dumped water on....shoes got squishy...might have to check zoots....
So having not run this far I had interesting running commentary in my head....at each mile marker I would think about what was left and when that number got below 10 it seemed a bit more reasonable....then when I was one quarter, one third, one half way through that was cool....the funny part for me was after the second turn around when I was headed back from the second loop and my thoughts were - oh just a 5K left...HA that was previously a hard run to me!
I actually felt good until about the last 1-2 miles. Then my hamstrings really started to hurt. a lot. like yelling at me - something to the order of wtf?? why are you doing this? you never asked us to do this before! you usually stop forever ago! Then my mind went to really hating our biker...because she talked me into this....and then the finish was in site and I was able to rally and sprint the finish....
So I ran a half marathon today. It took me 2:15, which considering I did not train nor taper I am ok with.
Prior to today my longest run was 6-7 miles....
and I had fun (well the last mile kind of sucked).
My coach's head was almost smoking from the wheels turning in his brain - he is already telling me to switch to the Olympic distance from sprint at Chicago...and the words 70.3 for next year are leaping off his tongue....
oy.
what have I gotten myself into???
---
---
cat
Sponsored by Suntheanine, Lycored and Celadrin
http://www.lycored.com/web/content/library.asp
http://suntheanine.com/Research.cfm
http://celadrin.com/pages/studies.php