Hello everyone first time poster here.. I found this place doing some searches on Peroneal Longus.
So I was hoping someone might have an Idea what I am going through and how to make it feel better, I don't have a regular podiatrist yet and really don't know when I can get in to be seen either..
So I have been working out since last march regularly to lose weight i am quite a large person, Down here in Tampa its getting nice again so I thought I might like to go running outside as my exercise as far as aerobics is concerned has been limited to Bike and Elliptical. So I went to a running store to get set up in a shoe. Turns out I have flat feet, The shoe I picked to go with is the Brooks "Beast"
On Friday we had casual day at work so I wore them all day to break them in, these shoes feel amazing very comfortable, and I noticed when I went to do my workout that day (10 min elliptical 5 for cool up and 5 for cool down) I was mush more stable on the elliptical, in my old shoes Id have to grab the bars fro time to time to keep from falling these I felt very stabilized and I don't think I grabbed the bars once.
So I wore them like a regular shoe all day, feeling great and no discomfort. I woke up yesterday and the bottom outside of my right foot is killing me, I can not put any weight on it whatsoever, so I laid in bed all day resting it alternating heat and ice. every time I had to get up just to walk to the bathroom was like some of the worst pain I have ever experiienced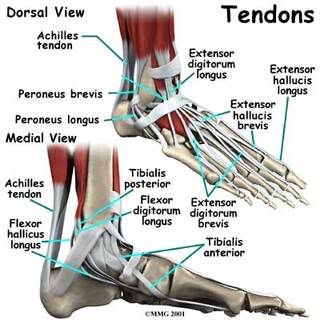 The pain is centered right where the peroneus longus meets the bone on the end kind of in the center of the foot, the foot is a bit tender the more I move up it but not unbearable only in that area. It only hurt to put weight on it yesterday, and didn't get much better if at all yesterday, and now it hurts to even lift it to try to take a step.
If anyone has any suggestion what this may be please help me out here, I cant deal with this pain, and Im very discouraged, I was doing so well, I am trying to lose weight to join the military, and I am 80 pounds from my goal at this point, I have lost a good 40 pounds so far. Thanks for any ideas or tips you may have, feel free to ask me anything as well. And also to note I did stretch before and after the workout, my feeling is that it is connected to the support the Motion control shoes game me, and perhaps this tendon was over worked because it had never been in that position, but odd thing is its only the right foot.